Woozy Hammock/Bed for Cats
by Ralf Frickel
(Eindhoven, Noord Brabant, Netherlands)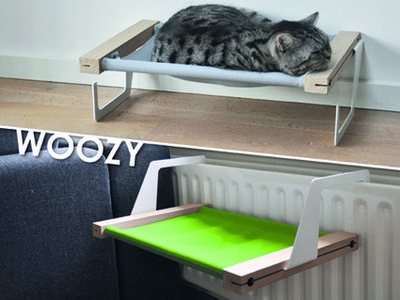 Woozy Hammock/Bed for Cats
The Woozy is an elegant, strong and multifunctional cat hammock/bed made for every interior, and suits every cat.


If you like the Woozy, please back it on Kickstarter:
Woozy, the hammock/bed for cats
*WOHOOD Dutch Design, made in Holland.
We wanted to design an affordable cat bed that is a part of your interior. Something everyone wants to hang on their radiator for their cat. The quality, looks and opportunities of the bed were the most important aspects in the design. Our cat hammock design is more advanced than any before.
* Multifunctional?!
We want to reach every cat owner with this design. No matter if your home has a different model radiator or no radiator. The woozy fits in every interior. That's why we decided to make the woozy multifunctional. It's easy to adjust to every radiator.
* Other cat beds.
We looked into other cat beds and hammocks. We noticed that there were no hammocks that could fit on every radiator. And the ones that could were, lets say 'not so pretty.' Before the Woozy there was no hammock that could fit on the radiator and also could be placed on the ground.
* Colors
We decided to offer the woozy in six different colors.
* Quality
The quality is the most important aspect in the design. That's why we chose for strength. We used high quality beech for the frame, coated steel for the hooks and strong recycled polyester for the fabric. The fabric is easy to replace and washable.
* Dimensions
52.5 x 36 x 17.5 cm. (Lenght x Width x Height)
20.7 x 14.1 x 6.9 Inch (Lenght x Width x Height)
How does it work?
The Woozy is easy to install. In less than 5 minutes your Woozy is ready for use. The manual shows you just in 6 steps how to install the Woozy.
If you like the Woozy, please back it on Kickstarter:
Woozy, the hammock/bed for cats