Trixie Snell from Emeryville
by Cheryll
(Emeryville, CA)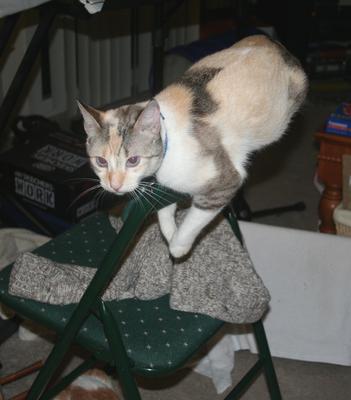 Trixie was a rescued stray that we adopted at the shelter in 2005. She was a little over 1 year old when we got her.


She is half calico and half Siamese. She looks more like a diluted calico, but her big, round, slightly cross-eyed blue eyes give her Siamese background away.
Being a stray, Trixie had an aggressive tendency and would scratch us a lot. But after a few months to a year, we were able to tame her, and she became the sweetest and most lovable cat. I could even hold her in my arms like a baby for hours.
She loved to hop on my lap and spend time with me and my husband, and her first buddy Smoochie (an orange and white kitten), whom we adopted a few weeks after Trixie.
Smoochie and Trixie were best buddies and Trixie was like a momma to Smoochie, who was only 4 1/2 months old when we adopted her. Smoochie later died of FIV (she tested negative when we got her) at age 8 1/2 months.
After Smoochie's passing, we adopted Daisy, a grey tabby who again Trixie nurtured and loved. Then, a year later we adopted Herby, an orange tabby, again who Trixie nurtured and loved. She was the momma cat to both Daisy and Herby, as well as the alpha cat.
Trixie was so unique in so many ways. She was curious, mischievous, brave, loved both people and cats, playful (loved the laser light), funny, and very balanced. She had the cutest inside meow, a sweet vocal meow, and was always begging for food with those cute, innocent big blue eyes.
Trixie got into so many things - inside closets, cabinets, and even tried to squish herself into the smallest of boxes. Once, she scared me by popping out of my suit case that was almost packed.
Trixie had a very good life, loved by us, and her adopted sister and brother. Things started going downhill in 2014. I didn't know what was causing her to pull out her fur. She had a non-malignant bump on her side, and she lost 2 lbs.
We tried a flea collar and that did not work, then a venison diet, but that did not work either. I would not put Trixie on Prozac, the last thing our old vet recommended, because I knew it wasn't a behavioral problem.
Things got more severe in June 2016, where her upper respiratory problems (i.e. sneezing, congestion, and then runny eyes) became a big concern. Her weight loss also became a greater concern, as she lost 1- 1 ½ pound since 2014, even though she was always a good eater and even a ravenous eater.
We tried antibiotics, antihistamines, and even steroids at one point, but the new vet could not find anything wrong with her, except that she had a severe upper respiratory problem. Her
blood tests were normal, only low cholesterol and albumin but not significant.
The vet had many theories that would need more tests - anything from skin cancer (as she also started scratching fervently at her ears), to cancer, possible problems with liver, kidney... it could be anything.
From June to July to August to September 2016, things started to rapidly decline, and her prognosis got worse. Her weight loss continued to be the biggest concern. Although she was still eating and drinking and walking around, in August she seemed to be more lethargic all the time, weak, and slept a lot.
We took Trixie to get an X-ray, but that could not determine anything conclusively. We then took Trixie to get an Ultrasound on Sept 7, 2016. I had some hope when the vet said it could be IBS, or a problem with her pancreas because that was treatable.
The same day we got the ultrasound, we were referred to a specialist to consult with, brainstorm ideas, and run more specific tests. The vet examined her and we decided to run more tests for upper respiratory disease and pancreatic panel, but the vet also noticed Trixie's gums very pale, a sign of anemia.
She ran a blood test and we found out she was borderline in need of a blood transfusion and that her sugar level was low. We decided to keep her overnight and she did fine, but the horrible, heart-wrenching news came the next day.
Although the blood transfusion went well and her red blood cells were up, she did not respond to the sugar (dextrose), and in fact, her sugar level dropped from 60% to 40%.
We had the opportunity to spend two hours with Trixie that day, Sept 8, 2016. I told my baby that I loved her, that I tried everything to help her, and that I didn't want her to suffer anymore, that she will always be in my heart.
I just held her in my arms, comforted her, petted her, kissed her, played music for her to hear, let her walk around in the room, and took some last pictures and videos with her to always remember her.
It was very difficult for me to let her go physically, to have her be euthanized, but I know in my heart that she is at peace and no longer is suffering.
She was a blessing to me, to my other cats, and to friends who visited. She was a beautiful, wonderful cat with a great personality, loved by many and will be missed dearly.
Although it pains me every day that she is gone, and I am filled with emotional anguish, I know she is now in a happier and peaceful place, without suffering, with Smoochie, and all the other animals - cats, dogs, and pets that have passed. Rest in peace Trixie Snell (9/8/16 11:30 am).