Tigger from Gallatin
by Donna
(Gallatin,Tennessee USA)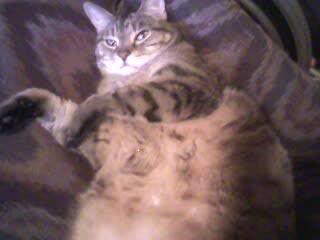 I got my cat, Tigger in 1996. He was 6 weeks old when I got him, a little ball of energy...

He didn't like to be held or touched and stayed hidden all the time. As the days went by, though, he got used to me and started letting me do things with him.

He liked to play with little toys such as balls, string, etc. and he loved his scratching pad with catnip and his tuna.

He was my companion, my friend, and since I don't have any kids... my child. He stayed right by my side when I was sick, he slept with me, he was with me all the time...

We had a very happy life together. It was the happiest 17 years of my life up until August 4th of this year when I had to have him put down.

He got an upper respiratory disease and could not breathe... I tried to take care of him myself but could not manage it, so I took him to the vet where he stayed.

He had treatments done on him all weekend long, but nothing worked and he had to be put to sleep because of his suffering.

I miss him more than words can say. A part of my family is gone. There will never be another Tigger, but I do know that he is in a happier, better place and is not suffering anymore and will be waiting for me when my time comes... Rest peacefully my Tigger... I will love u always...