Snuggles from East Peoria
by Jeremy
(East Peoria, IL, United States)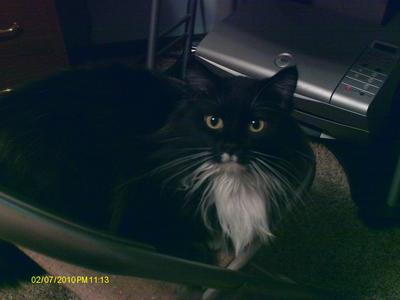 My Handsome Boy
Snuggles was likely born sometime in the year 2009, when he first came into the lives of my family.

He was a stray who attached himself to the window screen outside the house and scared my stepbrother, Conner, who was laying down on the couch inside.

He looked up and saw a big shape on the window and wasn't sure what it was. We determined it was a cat and let him inside.

He was very loving and friendly right from the start. My mom took him to the vet and he had worms, if I remember correctly, but he was all taken care of by the vet.

My mom named him Snuggles after a character in a children's book. A year after my mom passed away, I moved out on my own and took Snuggles to live with me. He was with me for over five years.

He was diagnosed with cardiomyopathy in February of 2015 and was on medication for this condition. I believe this is what took him from me.

Snuggles was my little boy and I was his Daddy. I called him Snugs, Snuggle-Bug, Snuggle-Bear and other names. He used to climb all over me in the morning because he wanted me to get up and feed him.

He would knock things off of my nightstand and dig around in the basket next to my bed that held my keys. I used to tease him that he wanted to take my car for a drive.

He loved to go outside, but I mainly kept him inside my house. I fed him human food all the time and he especially loved lunch meat.

He would climb into the dryer as I was taking out clothes to fold them and also climb into the cabinets close to the ground and look around in there. He also would sometimes stick his head in cracker boxes and chip bags.

He brought so much joy to my life and was a wonderful friend/"son" to me. I can't imagine my life without him and feel as if he was taken from me too soon and that his condition was much worse than what I realized.

I know that he is in a good place now, though, and that he isn't unwell anymore. I hope more than anything he realizes how much I love him and will miss him for the rest of my life.