Disney's Oliver and Company 20th Anniversary Special Edition DVD
The new 20th Anniversary Edition DVD of Walt Disney's animated classic, Oliver And Company is here. I was fortunate enough to receive a free copy.
It features a number of bonuses, new digital mastering, and a cast of animated animal characters that will please both dog and cat lovers alike.
If anyone has a way of taking old stories and giving them a fresh face and a fun feel, it's the folks at Disney.

So, it's no surprise that this story of furry friends is based on a Charles Dickens (a cat lover himself, by the way) classic tale (or is it tail?). :)
Based on a modern version of Dickens' timeless classic Oliver Twist and featuring songs by Huey Lewis, Billy Joel, and Better Midler, this is a fun film (as expected).
Oliver is a spunky kitten who, try as he might to get noticed, fails to get adopted. Instead, he ends up a stray on the streets of New York. Befriended by a dog named Dodger (as in the Artful Dodger), Oliver begins to learn the hard way about how life on the streets can be.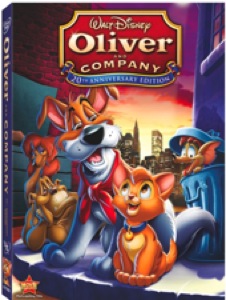 Dodger is the leader of a street-wise pack of dogs that are not only street-smart, they're, well, pickpockets!
While Fagin is Dodger's owner, at the top of this under the table food chain is the evil Sykes.

Oliver is schooled by the gang and put on the fast-track to life as a scammer, but before he knows it, he's rescued by a rich girl named Jenny.

Jenny takes Oliver home to live with her and her poodle, Georgette. But, Sykes has other plans and decides to kidnap Jenny and hold her for ransom. It's up to the kitten and his new dog pals to foil Sykes and bring Jenny to safety.
In the usual Disney style, the film is filled with colorful characters, such as:
Francis, the bulldog, voiced by Roscoe Lee Browne, insisting on being called "Fraaaancis" and not Frank or Frankie.
The over-the-top and very full of herself poodle, Georgette, voiced by Bette Midler.
Oliver and Company has the distinction of being a unique break through in box office success. Prior to this film's release, animated features were sort of second class citizens when compared to regular live action films. The success of this film paved the way for subsequent block buster successes like Aladdin and The Lion King.
OK, I admit it. I love animated films, especially those that include cats as the central or prominent character. There, I said it.
Now, with my bias in mind, I disagree with what some have said about this film not being up to Disney standards. I really enjoy watching this movie, and I think it has lovable and expressive characters. I feel myself drawn into the story, and I really don't see any of the flaws that some others have pointed out.
Oliver and Company has everything you've come to expect from Disney films, including an arch villain, bad guys who are really good guys at heart who sometimes do bad things, a kidnap caper, and over-the-top, life-like and cute animated characters you can get behind. What more could you ask for?
DVD Bonus Features
Interactive Game - Oliver's Big City Challenge - A nice little game for the kids which can be played right through the DVD remote. You have to help Oliver prove he has the street smarts to join Fagin's pack of dogs.
You can choose one of the dogs from Fagin's pack to help you complete each task. Choose the right dog to partner up with, complete the task, and you can move on to the next one.
Sing-along songs - Follow the bouncing ball on "Why Should I Worry" (sung by Billy Joel), and "Streets of Gold" (sung by Ruth Pointer).
Backstage Disney
This is probably my favorite part of the DVD, probably because I just like to see how things work and get the back story on things. Disney does some amazing stuff, most of which is not so obvious. The results, however, impact us and leave a lasting impression.
They actually photographed streets in New York with cameras 18 inches off the ground in order to get the perspective for the back drop. In order to give the artists inspiration for the characters, they paraded dogs through the studio.
Oliver and Company was the first animated feature to have a dedicated department for computer generated animation. Although it was a traditional hand drawn animated feature, many of the objects -- including cars, a piano, subway tunnels and trains, and the Booklyn bridge -- were created with computer animation.
Included in the Backstage Disney section are:
The Making of Oliver and Company
The History of Animals in Disney Films – A Disney animated featurette
The Original Theatrical Trailer from 1988
A TV Spot from 1989
The Rerelease Trailer from 1996
Return of a Classic – A look at the 1996 theatrical re-release of Oliver and Company
Fun Film Facts
2 Bonus Shorts
Lend a Paw - An Academy Award winning (1941 Short Subject - Cartoon) animated short wherein Pluto rescues a kitten.
Puss Café - Another animated short starring Pluto and friends.
---
Cat Lover Products

Cat Lovers Only