Mr. Franklin from Georgetown
by Lora W.
(Georgetown, Ohio)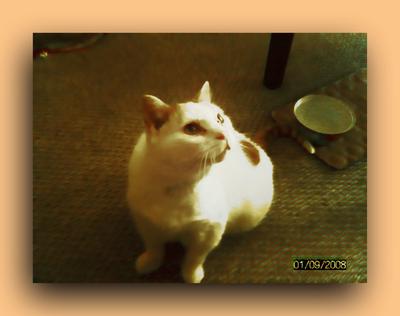 My Franklin
I miss him so. Mr. Franklin came to us in 2004. Our vet knew we had lost our great friend, the tuxedo cat known as Churchill to cancer 1 month before.


They called and asked if we might want to visit them as they had just gotten Mr. Franklin. He had been found by one of their customers, wandering the neighborhood, lost and alone.
Yes, yes I said. And so our adventure began.
He was wary of us, did a great job of you-can't-catch-me in the Vet's office. But we played along and then brought him home.
While we did not have 'papers' to prove it, Franklin was a handsome Turkish Van (our opinion). He was the classic red and white Van.
He was rather thin, but soon started 'bulking' up. We estimated his age at 1 year. As is typical with Vans, he did not stop growing until he was approximately 4-5 years old.
I have never met a cat like him. He was the most calm, even-tempered cat I ever knew. Nothing flummoxed him.
He could ride out the worst thunderstorms with ease. Vacuum cleaners were no match for him. He would merely eye-ball the offending machine, and move ever so deliberately a few feet at a time. Nothing could shake his dignity.
While never a lap cat, he could let you know his affection in other ways. Climbing into bed and getting so close as to make me worry about rolling over on him.
The recliner was a favorite spot. He would wait ever so patiently for my brother to sit down, and tilt the chair into position, and then stretch out, start up the mighty purring engine and sleep.
And he did snore. I captured some of his output on my phone and saved it (I listened to it this past week). And instead of tears, it brought laughter to me. Loud, raucous, hilarious snoring from your kitty is pretty funny.
There is so much more, but the grief is still too raw for much more from me right now. We lost him on 3/18/2017. He suffered a massive stroke (for want of a better term).
He had survived pancreatitis, right side paralysis, bouts with allergies, and more. But not this time. God was running a little low on Turkish Vans that day, so He gently placed him at Rainbow Bridge.