I Draw Pets
by Vanessa M
(Minneapolis, Minnesota)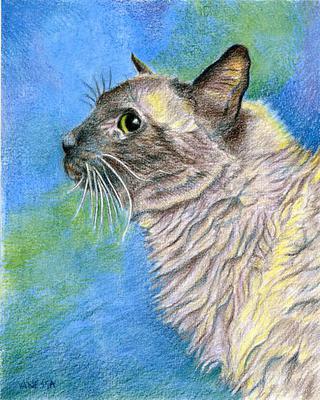 Xena, who believes she is Queen
Would you like to capture the loving gaze or innocent expression of your cat to keep framed on your wall forever?


You send the photos. I create the keepsake.
I am an experienced and versatile pet portrait artist who makes a point of keeping things affordable. I go to great pains to render your cat just the way he or she really is, but the background? That exists to flatter your kitty.
And I get orders for animals with disabilities all the time. I am including a drawing that includes a cat who has only one eye so you can see how I handle that.
The default size is 8 x 10 for everything, because it's a very default size for framing. And I ship your drawing flat and unframed so that you and only you decide whether you will go to a custom-frame shop and spend serious dollars for an ornate design -- or whether you have already spent enough and you just want to make use that empty frame you've already got sitting in the closet.
If you have PayPal, I can work with you! And I will ship anywhere in the world. Come and visit me at:
i-draw-pets.weebly.com