Hallie from New Hampshire
by Janet
(Durhan, NH)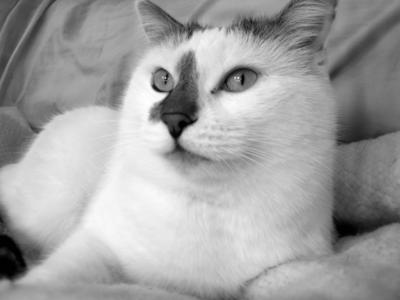 Hallie Bear
Hallie was found in a barn that was being cleaned out by former employers. I walked in that Sunday morning, October 31, 2004, looked up, and there was the cutest little terrified kitten in the rafters.


This cat was so adorable that we knew it was a girl : ) And we named "her" Hallie for Halloween.
As it turned out, Hallie was a boy, all 2.1 lbs of him. We kept the name but called him Hal or Hal Bear or Hallie Bear.
Hal was there during my daughters' teenage years, graduations and when they moved away, one to CA and one to Prague. We were buds. Hal greeted me when I came home from work and allowed me to pick him up only when he came in from outside.
He had his own spot on the sofa and stole it back if anyone dared to sit there. If you talked to him, he would often "answer", opening his mouth like he was talking back to you. He was a purring machine.
Three weeks ago, we were all at home at the same time. My Prague daughter hadn't seen Hal in 16 months, except on Skype. She came in with her sister and they petted Hal and went to bed.
Hal wanted to go out so I let him, figuring he'd be right back on a rainy, cold night. He would always come in when I called. Except for that night. I found him the next morning, looking like he was taking a nap.
There was no blood, no sign of injury, but my beautiful boy was gone.
We don't know what happened-he was 10 and healthy. We were heartbroken to lose him so quickly in that way. We will miss that Bear, especially in the spring when he loved to sit in the grass like a wild animal, thinking we couldn't see him.
My friend went to my vets to tell them Hallie had died and came back telling me about a black cat that was there waiting to be adopted. I said no because it was too soon, but changed my mind 2 days later.
Luna is 5 months old and a ball of energy and was a stray who had been fostered. I have to laugh at her kitten antics and the way she fetches a yarn ball over and over.
She won't replace my Hallie Bear but she needed a home and apparently I needed her. She is sitting in my lap right now for the first time since I got her 2 weeks ago!
Rest in Peace Hal! We love you!