Cat Memorial: Talvi from NC
by Elizabeth
(NC)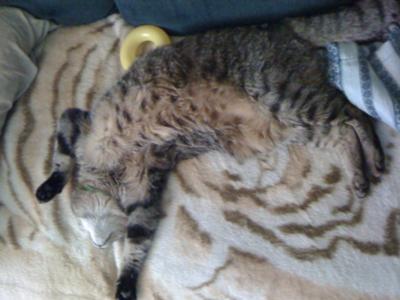 Talvi at 16 yrs old, sleeping on a mink.
Talvi was born in July of 1994, under a Maverick in my driveway, along with his 6 brothers and sisters. Talvi was the runt of the litter and instantly took a hold of my heart.

Throughout his near 17 years Talvi had been a companion and dear friend to me. I was 8 years old when he was born. I raised him by bottle and cared for him his entire life.

Talvi was known as the Garfield cat, because when he was younger he was awfully large and had a perpetually young face. Such big round yellow-green eyes, and an inquisitive look about him.

He was very smart, he knew how to climb the ladder to my bunk bed as a child to sleep on the top of my pillow, something he did up to the end. Talvi was very loving, never shy of strangers and always willing to crawl up into a lap and purr happily.

He tolerated my young children from their births and it was rare that you would ever swat or growl at them, even when they pulled your tail. The oldest still asks about you, he says you were "his" cat.

We had a few scares throughout the years, where we thought we were going to lose him. A severe bladder infection that required emergency surgery, when you were diagnosed with Hyperthyroidism (and we paid for the radiation treatment, even though people called me crazy to do so), an abscessed tooth shortly afterwards.

We dealt with your arthritis by snuggling with you and turning on the electric blanket for you. The day you could not jump up on my bed was a sad day for me.

Talvi had been trying to escape the porch for months before he finally succeeded. I never saw him again. I searched everywhere for him, even braving the woods at night with a flashlight and broom to push away spiders. I stood outside for him in my yard, in my bathrobe, every morning for two weeks calling your name.

I feel that you were trying to save me from finding you gone. Perhaps you grew wings and flew into Heaven to rejoin your angelic friends. God knows that you were close to being my Guardian Angel.

Talvi was my friend, my confidant, my support through an abusive childhood. I will miss him greatly and I can never replace him.

Talvi, I love you, and you are greatly missed by your family.