Cat Memorial: Honey Bear from Mesa
by Rodney A. Johnson Jr.
(Mesa, AZ)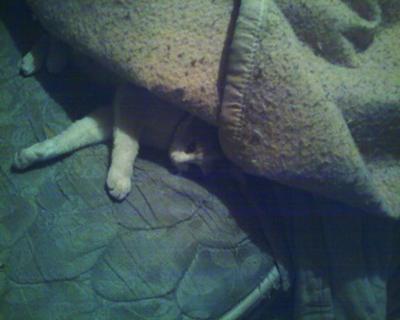 Sleep time kitty
A neighbor heard I lost a kitten, so she brought this 12 week old calico cat to me. A cat with an attitude for big dogs.

People have asked me many times how she got her name. Well, it's like this; she got her name in the first 5 minutes after being in my home. She gave me a great big bear hug dripping with honey. Do you think I named her right??

Now God knows how loving she was to Me and my home.

She loved me so much she had her first litter on my bed. Only one kitten from that litter remains.

She was being chased by the neighbor's pit-bull when she ran up a tree. She went up the left fork of the tree that bent back into the yard. The dog was hot on her tail when honey bear kamikaze'd him.

Same dog two weeks later... she was running across my neighbor's yard when she faked a fall and the dog ran right over her with four legs in the air. She scratched him mid chest to tail.

She was born May 15, 2006 at ?am/pm. This Sweet baby was taken away from me by a speeding vehicle, April 15, 2012 at 7:00pm.

She taught me how to love with all my soul. I pray to God, to keep her soul for me.