Casper from Somerville
by Mary Antaya
(Somerville, MA)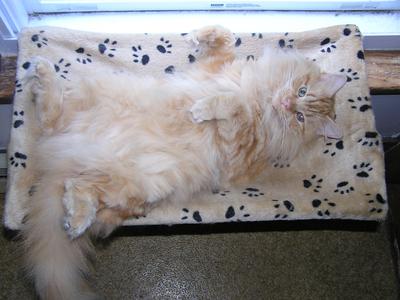 In one of the coldest winters we had in January of 2003, Casper and another cat, Riley were rescued from a house of over 50 cats.

We fostered them, but I admit I am a foster failure. We adopted both.

Casper was smaller than Riley but he loved all of us. He snuggled in a basket with Riley and loved his nightly belly rubs.

He followed me everywhere I went around the house so as not to miss anything. About 9 weeks ago we took him to the vet because he wasn't eating much and sneezing and losing weight.

Our vet set up an appointment with a specialist to put a tube in and see what could be the problem. We were in denial that dying was a possibility. 6 weeks ago we had the operation done and it was determined he had cancer in the soft pallet in his mouth and it had spread into the sinuses.

We had to put him down and it was so hard. Very emotional. He was cremated with other cats and his ashes spread in a pet cemetery. About 3 weeks ago we went to that cemetery to feel closer to him.

Since he has been gone I realize he was the heart and soul of this house. He brought life to it. Not a day goes by that I don't cry for him.

I love and miss him so. He was a very spoiled and loved cat. He couldn't have had a better life.