Callie from Mississippi
by Nikki
(Mississippi)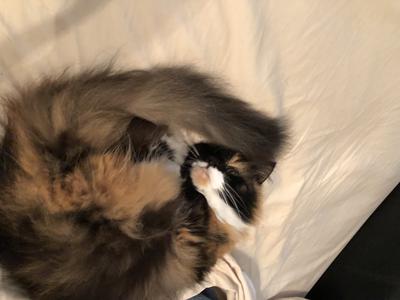 Peekaboo
Callie was my first baby. We got her right before our first wedding anniversary at 6 weeks old.

She was a lazy little thing. She was either scratching the furniture or sleeping curled up on our bed. She slept right beside my head every night.

We had to make the tough decision to help her cross that rainbow bridge. She had feline HIV and caught a cold and her body just couldn't fight it off. Two rounds of antibiotics, steroid injections, b-12 injections, eye drops and nothing worked.

I loved her so much I didn't want to let her go but I also knew I couldn't let her stay. She could barely walk and couldn't see out of one eye.

She got sick on Dec 6, 2019 and we had to let her find peace on Jan. 8, 2020. I miss her every single day. We had 16 wonderful years with her. RIP my sweet Callie Wallie. You are loved more than you will ever know!
Join in and write your own page! It's easy to do. How? Simply click here to return to Rainbow Bridge For Cats.