BennyBoy from Orange County
by Audie
(Orange County)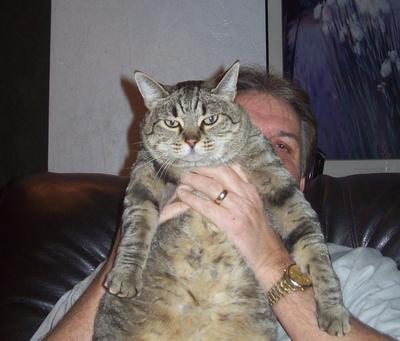 BennyBoy showing off his wide girth!
BennyBoy, age 14, was a cat with a free spirit. He was a clown that loved to eat food and drink water. All he wanted was a home with security, a kitchen, his own food bowl and his own special tin water dish.

Birth: Feb. 2, 2002
Death: Jun. 23, 2015
Orange County
California, USA

I got him from the pound when he was ten years old. He was a fat, "owner surrender" with feline acne, a lump on his head and in need of a good teeth cleaning; which our great vet fixed. Benny was personality plus and had a loud "Meow."

He was grossly overweight at nineteen pounds with medical conditions. We were never able to get a handle on his diet because he lived with four normal weight cats and there was a constant buffet happening 24/7. It was next to impossible to give Benny diet food while feeding the normal cats their fattening food.

Benny actually slept right next to his food bowl and would often have his head in the water bowl while snoozing towards the end of his life. He was obsessed with drinking water and yet he was not a diabetic cat.

Benny passed on Tuesday at 3:20 PM at the vet's office. He had kidney failure and an abscessed tooth that were both discovered in the vet's office that final day. Prior to that, his medical conditions remained a mystery that went undetected on his lab results.

I miss him terribly. He never quite learned where his litter box was, but he was my favorite cat of my five. He was an adorable, knucklehead. I fell head over heels in love with him on that first hour I spent with him at the pound.