A Tribute To Frugal Dougal
by Kurt (Admin)
This is a tribute to @FrugalDougal whose charity fund raising efforts for animal causes through #pawpawty events held on Twitter are now legendary. This tribute is in lieu of my attendance at #dudefest, which was held in Dougal's honor.


Update December 21, 2012:
This week, Dougal crossed the
Rainbow Bridge
as so many dogs, cats and other animals have before him. A great anipal has fallen.
This tribute was written several years ago, while Dougal was with us, but I'm not sure that any tribute can really express what impact he's had. RIP little dog. You are missed.
If you're not all that familiar with Twitter, you might not know what a #pawpawty hashtag is, or an anipal, and some of this might seem strange to you. But, a growing number, and I mean a laaaaarge number (like bigger than
Dewey the Library Cat's
fan club) of cats, dogs, ferrets, rabbits, and, well, you name it are opening accounts on Twitter!
@FrugalDougal
is one such anipal, and he started the #pawpawty. So, what's a pawpawty? Well, ABC News put it like this:
Animal Friends Have 'Pawpawties' for Charity
"Pair of pawty anipals and owners use Twitter to make money for charities around the world" was the sub-headline for that story on Dougal and
@Romeothecat
. I'll let you read the rest over there.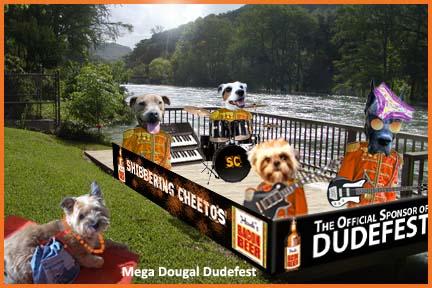 Who is Frugal Dougal? Well, hopefully by the time you read the poem below, you'll understand a bit more, but I'm actually talking about a dog. I know it might seem odd that I'm writing a poem about a dog, but... he has helped countless cats and other animals as well.
By the way, an enormous amount of effort and creativity is put into each of these virtual parties on Twitter, and I don't want to take away from all of the many folks who work so hard, month-in and month-out to raise money for animal causes. But, like the #dudefest, this is a tribute to Frugal Dougal.
On that note, below is a poem that I wrote in honor of the great Dougal. I hope you find it entertaining. For the uninitiated, it might give some indication as to why, in world of animal charities, Twitter and anipals, Frugal Dougal is famous.
---
Why Frugal Dougal is Famous
Dougal, you are the best.
At raising money for those in need.
Master of the Anipal Fest.
The antithesis of greed.
The #Pawpawty is your game.
Your charitable creation.
@FrugalDougal is your name.
A veritable Twitter sensation.
Helping those with great causes.
Save little furry lives.
Assisting those who have pawses.
Who don't work, and can't drive.
This tribute I send.
On electronic wings.
To a great doggy friend.
Of all living things.
A cute furry crusader.
For those who can't speak.
A masterful creator.
Of benefits for the weak.
Receiving awards and accolades.
Taken in humble doggy stride.
We salute the strides you have made.
And honor you with pride.
And friends of the Dougal.
Be alert and listen up.
For there is much to be learned.
From this little furry pup.
The lessons arrive.
Not through word but through deed.
With his actions he drives.
Funding for medicine and feed.
That money saves lives.
In the hands of the skilled.
Ensuring an animal thrives.
That otherwise might be killed.
Dougal, you're the best.
As Tina once sang it.
Better than all the rest.
You're amazing, dang it!
You teach others about living.
As we learn by your lead.
Adopting a selfless spirit of giving.
As our minds become freed.
From the bonds we've created.
We release our imaginary hold.
Our hearts are dilated.
To embrace the entire fold.
Of humans and creatures.
And all living things.
Awakened by you, furry teacher.
With all that it brings.
Back to the heart.
All our giving returns.
You've played a huge part.
Igniting passions that burn.
For the spreading of awareness.
Of the plight of furred and feathered.
Treating lesser creatures with fairness.
A collective consciousness untethered.
Free from self-centered unkindness.
We throw off the bindings.
That shackle and blind us.
To the daily grindings.
Delaying selfish pursuits.
To expand our compassion.
We grow charitable roots.
And prove kindness in fashion.
Melting feelings of possessiveness.
Of hate, and of fear.
Disappearing all aggressiveness.
You make it undoubtedly clear.
That the way to the top.
Is not a ladder or a fight.
But instead to adopt.
The concern for the plight.
Of the others we see.
So often discarded.
From cages we could free.
If we were more kindhearted.
The #Pawpawty is fun.
And wild and crazy.
There's streaking, exposed buns!
Although memories are hazy.
The pawty brings out.
The fun and the fest.
While removing all doubt.
About who is the best.
An animal supporter.
One beyond compare.
Ask any observer.
An anipal extraordinaire.
The #Pawpawty is a feast.
There's plenty of food.
Fit for any beast.
Added music for mood.
The DJ's are spinning.
And the barktenders don't quit.
The charities are winning.
And the animals all benefit.
And dancing is done.
As the anipals sway.
And prizes are won.
In the quizzical fray.
Amid contests and prizes.
There's bacon beer served cold.
Lots of surprises.
The menu fresh and bold.
Drinks are at full pour.
By volunteers who dress up.
In the costume de jour.
Disguising kitty cat or pup.
Kitties like niptinis.
Barkaritas for dogs.
No regular martinis.
But do you have anything for frogs?
Meowgaritas for felines.
Everyone wants bacon.
No offense to the swine.
Is this seat taken?
Sekurity's on high alert.
Looking for would-be spammers.
They eat 'em for dessert.
And put up blocks and jammers.
Canines love to pawty.
Bacon beer from the tap.
Some of them get naughty.
And need a little slap.
Some anipals go to jail.
And have to be freed.
Donations are bail.
The charity is pleased!
By the raucous behavior.
Of this crazy crew.
A rescue's savior.
Their finances renew.
And so my friends.
You see much fun is had.
But amidst all the pretend.
Another reason to be glad.
A CATabulous celebration.
Becomes a DOGtastic affair.
The Anipal Nation.
Raise glasses in air.
When donations cross over.
That predetermined line.
The coffers runneth over.
#Pawpawty's a gold mine!
And Dougal is to blame.
For it was he who first lit.
That charitable flame.
Now a raging fire pit.
Engulfing the planet.
Now sweeping Twitter-land.
Anipals everywhere.
Are lending a hand.
If you embrace the habit.
Of attending these online shindigs.
You might see rodents and rabbits.
And occasionally even pigs!
Duckies, and bears.
And stuffed toys too.
Rodents and hares.
Every month someone new.
If I've left creatures out.
It's not my intent.
But if you feel left out.
Feel free to comment!
The charities rejoice.
The anipals feast.
While those without voice.
From their cages released.
And so dear Dougal.
Again I say.
You are the best anipal.
You show us the way.
You top the crest.
Of each wave of donation.
Riding a treasure chest.
Of your own creation.
Anipals join me.
As we give high paw.
To this amazing little doggy.
Of whom we're in awe.
For no one does more.
For those with four paws.
Opening charity's door.
Working hard for the cause.
And, Dougal just know.
This tribute I deliver.
Pales in the glow.
Of your big giant giver.
When we're gone from this place.
And no one can name us.
They'll know Dougal's cute face.
'Cause @FrugalDougal is famous!
---
But wait, there's more!
#Dudefest
, a
#Pawpawty
in honor of Dougal, was organized by
@brutusthedane
.
You can view the
#Dudefest pawwall
put together by
@GeorgeTheDuck
, and the
Dougal celebration blog
put together by
@PepiSmartDog
and
@BadAndy_KityKat
.
You can read more about
Romeo the cat
and his charity efforts, as well as
Frugal Dougal's blog
.
Feel free to let me have it in the comments! Oh, and you can say nice things about Dougal if you want. Purrs and thank you.
-Kurt
P.S. Here's a video that shows some of the history behind animal fundraising on Twitter and the evolution of the #PawPawty.