Miss Kitty from Texas
by Pat
(Texas)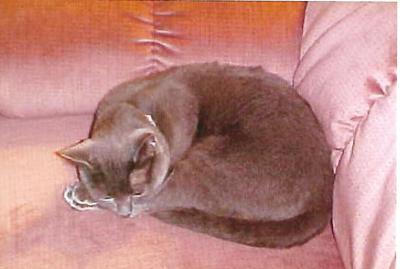 Miss Kitty sleeping in her favorite place--my husband's big recliner.
We were always dog people, but one day while I was sewing, the most beautiful "Blue Russian" kitten walked down my sidewalk. This was in 1998.


We took her to the vet and had her spayed. Then she became an inside cat. We loved that cat and she loved us until her death in 2016. She was 18 years old.
I had protected her all of those years, and made her stay inside at night. My husband thought I was silly, because he said she was an outside cat. We protected her until the night I was exhausted from canning, and my husband had taken the dog out to potty for the night.
I saw Kitty go on the enclosed porch, but I thought she was using the litter box. Instead, she followed my husband and dog outside through the kitty/doggy door, and I forgot to ask when they came inside if they had seen her.
My husband closed the door, and she was trapped outside, but we didn't know it. The next morning I searched the house and searched, and we searched the yard (4 acres) over and over and called and called.
I posted "Missing Cat" posters on all the neighbor's houses, and some even helped us look. A week later, a neighbor saw her dog go into the tall grass behind her house (we live in the country), and the dog came out chewing on something.
When she checked, it was Miss Kitty's collar. She let us know, and my husband and her husband searched the tall grass, while I sat inside crying. They never found fur or blood or any sight of her, so either an owl or a coyote carried her off.