Isa the seal tortie mid bicolour Ragdoll
by Maria & Simon
(Sweden)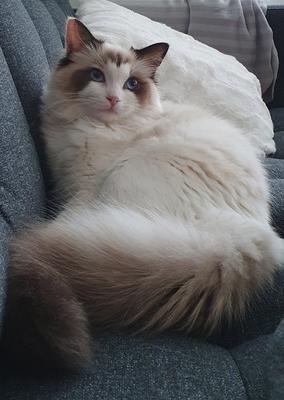 Isa at 10 months.
Hi! I'm Isa. I am a seal tortie mid bicolour Ragdoll. The "mid bicolour" (or mid-high white bicolour) means that I have a bit more white in my fur than other bicolour Ragdolls. I live in Sweden with my human parents and my Ragdoll friend Toffee. We have a splendid time together day in and day out.


I always get to spend lots of time with my parents and cuddle with my friend, we also travel a lot by car to visit the grandparents. I recently had my first litter at 1½ years - I gotta say, since we all were a little nervous, it went better than expected! Those little runts have now moved to their new families, but I'm satisfied as can be with my own family.
I am turning 2 years old this February of 2022 and I expect to travel a lot more and walk in the summer grasses with the friends that I love. Sometimes, my parents also upload pictures and videos of me on our Instagram @Isaragdoll. Thanks for reading!