Is my 12 week old kitten a seal point Siamese?
by Sue
(Florida)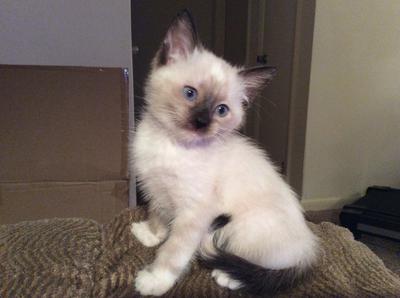 8 weeks
Any guess as to what, if any, breed my 12 week old kitten is? I couldn't get the third picture to post of pads. They're mostly pink with a few having brown marbling in with it.


She was found in the road with her dead Momma. She is a real sweetheart.
I get confused reading all the information as to color and point and how to tell by ears and markings. Is she a mitted bi-color seal point of some breed?
On the
Siamese
groups, they say she's a
Snowshoe
. On Snowshoe they say
Ragdoll
.
I realize she's not a full breed but those of you in the know may be able to guess the closest for my veterinarian information for illnesses.
I realize it doesn't matter because I'm thankful to have such a beautiful, sweet cat, but am curious. Isn't her tail to die for lol?!!