Don't Hate Me Because I'm Beautiful!
by Steven Udelle
(Winder, GA, USA)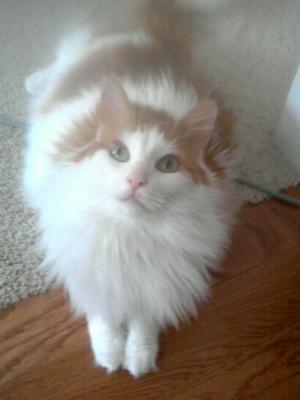 Precious' Glamour Shot
Precious came crawling towards us very low to the ground from our neighbor's driveway. It was a shy crawl that begged for attention. We were backing out of the driveway when I stopped, got out and coaxed this cute little kitty toward me.


She had the fluffiest white mane, golden long fur and white little booties for feet. Something was odd though, it had the tiniest head. Markings said
Maine Coon
but the size said something else.
We spent a couple weeks posting flyers in the neighborhood and pet stores trying to find the owner. It was February and cold in Georgia. I put a blanket and box on the front porch for her to sleep in till we found her owner.
My wife commented on how this particular cat had not started her allergies nor mine going. My wife never knew the pleasure of owning a cat as a child as they made her eyes swell shut.
No owner to be found we figured the typical scenario in our development, foreclosure-people move-scumbags leave kitty to fend for herself. After all, she was groomed and was not afraid of people. Definitely not feral. (We have seen many pets left behind by forclosees)
Too cold, I brought Kitty in and gave her a flea bath. The next day, I took her in for shots and spaying. The vet said, "What's the kitty's name?" I told her "Precious". She said that was an odd name for a male.
Male??? With a tiny little head like that? I told her that we named it already and that's the
name it gets. He looked feminine anyway. We brought him home. He picked the furniture. One more stop at the vet and he was now ball-less AND clawless.
Precious is actually a
Norwegian Forest cat
. He's been sleeping in our bed for close to three years now. He will sit for hours on the sofa and watch TV with my wife. Although he runs from me because I pick him up and torture him with love, hugs and kisses, he still needs to follow me around the house to see what I'm up to.
On the last visit to the vet, they got spooked because they though they all saw an enlarged heart wall on the radiograph x-ray. They recommended a free T thyroid test which Precious was a little high on the normal scale. They recommended a heart specialist. Now it was US who had the heartache.
Turns out, we worried for nothing. The doc gave us the tour of kitty's heart on his ultrasound screen and said it was purrrrfectly normal!! He looked at the x-ray his former vet students took and said that was normal too.
He was not impressed with the doctors who had all been in his class at one time or another in the past. We thanked him, paid the 400 clams and left with a happy cat.
We travel with him as he is a rain man. It kind of makes vacations rushed though. He appreciates all his toys and plays with them non-stop. He rolls on his back when he stretches to show us all his now-famous poses.