2BARW COONS Maine Coon Cattery
by Teresa
(Hot Springs Village, AR)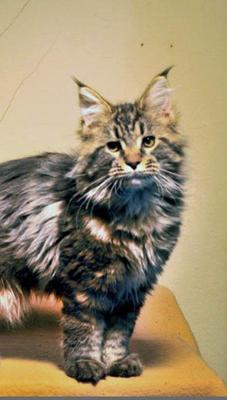 April (female breeder)
I am Teresa Warren. My husband, Jarrett and I, along with our daughter Casey, own and operate 2BarW Coons.


2BarW Coons is located just outside of Hot Springs Village in the beautiful state of Arkansas. 2BarW Coons is a small CFA Registered Cattery.
Our goal is to produce healthy, beautiful examples of the Maine Coon Cat breed. I love Maine Coon kittens and cats, which is why I've chosen to be a Maine Coon Breeder.
My beautiful angels live with us and are raised as a part of the family and are never considered as pets. My cats/kittens are never caged.
My wish is to share these "gentle giants" as loving pets with others who share the same love and passion for Maine Coon kittens and cats as I always have.
Maine Coon cats are considered to be the "puppies" of the cat world. They love people and want to be involved in every aspect of family life.
They are often referred to as "gentle giants" because of their large size and sweet, loving dispositions. Many people consider Maine Coon cats to be the "perfect pet" with their unusual personalities, habits and tricks - and eagerness to help with every activity in the house. A Maine Coon kitten will be a very loving addition to any family.
This started as a life long dream to have and breed these beautiful Maine Coon cats. All the kittens are raised under foot in our home and loved by the entire family.
The kittens are handled from birth so they are very well socialized and spoiled! I feel it's an honor to be able to share this majestic breed with others.
All of my cats/kittens are fed only premium cat or kitten food. I suggest keeping the same food the kittens are used to in the beginning and slowly changing their diet if you prefer
another brand of food. Be sure to check with your veterinarian if you have any concerns regarding the feeding of your new Maine Coon kitten.
Keeping our cattery small enables us to spend more personal time with each and every Maine Coon kitten. As I stated before, our cats and kittens are never caged and are lovingly raised underfoot which gets them used to all the normal household activity and noise.
It also gives us lots of opportunity to hold, carry and love them. My husband, daughter, and myself handle the babies everyday from birth to familiarize them with human contact.
Around three weeks old, we will begin socializing them with friends and family who come by (frequently I might add), who play with, hold and love the kittens. This gives the kittens a lot of interaction with people early on.
Once you see a Maine Coon kitten it's "love at first sight". They have exceptional dispositions and ours are an important part of the family. We hope to help you make a Maine Coon kitten a part of your family too.
Our goal is to breed healthy, beautiful, kittens with sweet and loving personalities, and to place our kittens in homes where they will receive the love, care and attention that they are so willing to give to their new family.
Please enjoy our website and look at the pictures. I will update this site as litters are anticipated and I will continue to add pictures of our kittens as they become available.
I am a member of the Cat Fanciers' Association.
All our kittens come with a health record, first shots and de-worming. All kittens are sold as pets.
Location:
977 E Glazypeau Rd.
Hot Springs Village, AR 71909
(479)530-6279 (feel free to call or text - US Central Time Zone)
Email: info AT 2barwcoons.com
Visit our website:
2BARW COONS
On Facebook