Piggy: The Not So Ordinary Cat
by Karen Malena
(Pennsylvania)
Piggy, appropriately named for her portly size, is really my son, Matt's cat. Matt is a semi-viral You-Tuber, who features Piggy in some of his uploads.


Fans of all ages became enamored of her, and to "give back" to her fans and my son's, I decided to write adventures for her.
Piggy's books, though whimsical and fun, also have morals and a heartfelt theme of friendship and camaraderie throughout.
The first volume finds Piggy trapped in her master's claw machine, and with the help of her miniscule friend, Melvin, making plans to escape.
Volume 2 has Piggy and Melvin adventuring outside their home, with Piggy's curiosity to "take flight" getting the better of her.
Each of these books shows the value of true friendship as she helps her neighbor dog, Rolf with situations, showing the differences between dogs and cats isn't so bad after all.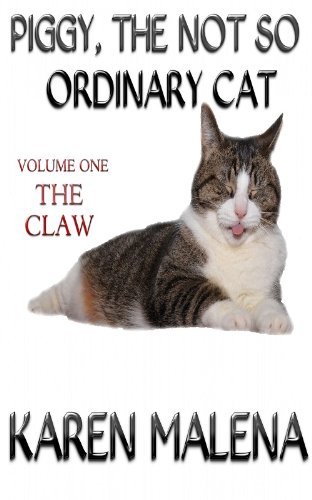 Buy the books:
Buy
Piggy, The Not So Ordinary Cat - Volume 1 - The Claw
from Amazon
.
Buy
Piggy, The Not So Ordinary Cat - Volume 2 - Piggy Takes Flight
from Amazon
.