Memorial for Maxwell from Ofallon
by Shirley
(Ofallon, MO)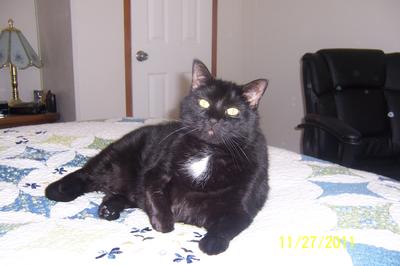 We adopted our precious Maxwell from the Humane Society when he was ten weeks old. He was black with a little white spot on his chest.

He was such a loving guy who gave us so much love and years of happy memories. Max was born June 2002 and passed away August 2012.

Max was diagnosed with having diabetes a few weeks before his death. We did everything we could to save him. Giving him insulin, intravenous fluids and much more, but our sweet precious Max did not survive. He went into cardiac arrest during treatment and we lost him.

We had him cremated (we cremate our pets when they pass away and keep their ashes) and his ashes along with our other passed pets will be scattered with mine when I pass away.

We have adopted another little guy since the death of Max. He is a Maine Coon, turned one year old February 8, 2013. He is black and white and named Brody.

We also have Maggie, a black and white Maine Coon who is 11 years old. I know Maggie misses Max as much as we do. They were such good friends and play mates for so long.

I will never forget our precious Max. He will forever be in my thoughts and heart.