Greetings From The Starcat Cluster ~ It's The Place in Space!
by Debra Halborn
(Aiken, SC, USA)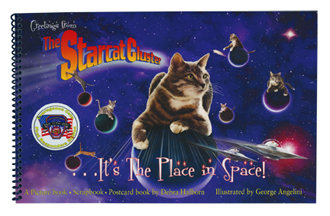 Front Cover
A combination picture-book, scrap-book, postcard book fun for Cat Lovers of all ages! Dynamic illustrations by artist, George Angelini, bring Halborn's text-in-rhyme and silly jingles to life!


Scrapbook in photos of your kitty! Share the 12 perf'ed postcards with friends!
Light up your word power: take The Starcat Vocabulary Challenge! A portion of every book sold is donated to Feline Rescue across the USA.
Buy the book at
The Starcat cluster