Callie from Temecula
by Keith & Susan
(Temecula, CA)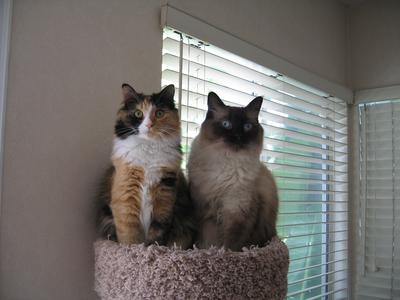 With Frank, our Ragdoll
Callie left us unexpectedly on March 14, 2018. A blood disorder took her from us way too early. In my work I service commercial swimming pools and rescued her and her two brothers at about six weeks old from behind a pool heater and brought them home in my pool net.

The brothers were adopted and we kept her, the only calico of the three. We picked fleas off them and brought them back from the brink.

She loved to chase "ting" sticks and laser dots. She had a feral streak in her but was so loving.

Susan held her as she passed over the Rainbow Bridge. Our hearts are breaking. We will always miss you Callie... #Teardropsfalling. Joy from the memories will prevail!