ArtistLifeExperiment
by Tina Welter
(Wellington, New Zealand)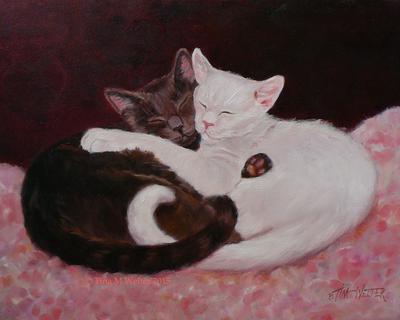 Hello my name is Tina Welter and I offer original oil and watercolor paintings, as well as prints in my Etsy shop, ArtistLifeExperiment.


If you like what I do, I also paint custom pet portraits. Please feel free to contact me at my etsy shop.
Why ArtistLifeExperiment? I started a blog in 2008 with that name, when I decided to face my fears and began my journey to become a full time artist. I still write about creative anxiety featuring my inner 'Fraidy cat on my blogspot to help myself and hopefully help others too.
Cats have meant a great deal to me my whole life. Playing with the farm cats always cheered my up when I as little.
My husband and I adopted a stray kitten, "Chessie", the first year we were married and up until a few years ago, we always had cats to enjoy and share our lives with.
In 2011, we sold our home we built ourselves in New Mexico so that my husband could go back to school. We've been renting and moving ever since.
His initial schooling was located in Europe and now we are in New Zealand. During this time, both my dear parents passed away.
I mention this because even though I didn't have my furry friends with me anymore, painting them still cheers me up immensely.
I get so much inspiration from seeing the wonderful cats on Cat Lovers Only.
Thank you!
Tina