Contests and Giveaways

If you see no currrent contests, please check back soon or join the newsletter to be notified when the next contest starts.
The Bird Catcher Pro Giveaway
Enter to win a Bird Catcher Pro cat toy and keep your kitty toned and entertained.
---
Previous Promotions (These Contests Have Ended)
---
The Meow Box Giveaway (Ended)
Update: The Meow Box giveaway ended on 2014-05-13 at 23:59:59 EDT. If you'd like to be part of the next contest, sign up to my mailing list.
Win a free 3 month subscription to Meow Box. Contest deadline May 13 23:59:59 PM EDT.
---
The Secrets of Lost Cats Book Giveaway (Ended)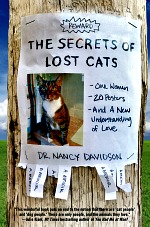 The Secrets of Lost Cats. Contest deadline July 22, 2013 at 11:59 PM, US Eastern time (ended).
I was given a free, pre-release promotional copy of The Secrets of Lost Cats, a book by Dr. Nancy Davidson. I was also fortunate enough to be given the opportunity to give away 25 copies of the book.
Rather than write my own review, I thought it would be fun to get copies into the hands of readers like you, and let them offer their input and tell us what they thought of the book.
This giveaway has ended, but you can...

---
Cute Cats Contest (Ended)
The Cute Cats Contest (ended).
Everyone thinks their cat is the cutest, but...
Does your kitty have what it takes to be a winner? Enter the contest and find out!
First prize: $75 online gift certificate or voucher.
---
Poll
Everybody loves a contest/giveaway, right? I'd like to know what kind of contest or giveaway you'd be interested in entering, and what kind of prize you'd most like to win.
Please take the poll below and help shape upcoming contests or giveaways. Would you prefer a contest? Or a giveaway? What kind of prizes would interest you and your cat?
If you'd like to add anything, please leave a comment below.
If you want early notification of contests, giveaways, product announcements and exclusive content, you'll want to also subscribe to the newsletter.
Click the button below...
Click Me!
Thank you so much for taking the poll!
Want More Kitties in Your Inbox?
Join our cat club #teamcatlovers
---
---