Nonnee from Des Moines
by Elle Kappa
(Des Moines, Iowa)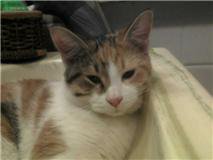 Nonnee
I got my girl Nonnee when she was six weeks old for my black male, Ruckus. He fell in love with her. If a cat could smile, my Boy Ruckus did the moment he saw Nonnee.


We were saying no name because we couldn't figure out a name for her, and she wasn't helping to pick her own name. Somehow, it turned into Nonnee. One thing about our girl, one of her spots is in the shape of a heart.
Want More Kitties in Your Inbox?