Cat aggression before meal time
by Neilbert Jala
(Philippines)
My partner and I have a cat named Samantha. We adopted her two years ago and found her on the street near to my house in Butuan City, Philippines in my hometown.


Samantha is a very sweet and playful cat. She always sleeps with us by our feet and sometimes between us so that we can hug her.
Every time she asks for food and feels ignored she always bites my foot, sometimes hard, sometimes not, but it doesn't create a wound.
She is so impatient about waiting for her food, even though I tell her, "Please wait Samantha because I am preparing your food my baby," every time I am about to feed her.
Is there anything that we can do to prevent Samantha from biting our feet while we are preparing food for her, or any way to understand why she is doing that so we can adjust ourselves to Samantha's biting behavior?
Any thoughts will be appreciated! :)
Question about cat aggression
by Gabriella
(Denmark)
Hello Cat Lovers, I have a few questions about cat aggression. This morning I sat at my PC, when I heard angry cat sounds from the bathroom (never heard such angry and loud sound before). So I ran to the bathroom to see what was going on, and I saw mother cat attack one of her kittens (at least that's what it seemed like, it all went so fast).

So I bowed down to get the kitten away and all of a sudden mother cat jumped on my face with her claws, and what happened next tears my heart apart to think of... Because I really didn't mean to do it!

As it attacked my face, I got a grip of its tail and threw it... Unfortunately it hit the radiator and was just laying there for about 10 seconds like I had broken its neck or something. It was a reflex, and it tears my heart apart to think of :( I did not know what to do, so I grabbed the kittens and closed the door to the bathroom.

About 10 minutes later, I heard the mother cat meow from the bathroom and I was happy I had not killed it! However, the kittens seem traumatized. They're scared and angry towards each other.

Mother cat is silent and will not take a treat out of my hand as she used to. I think she has some internal damage, but I am not able to go to the vet before next week. What do I look for ?

Thank you

P.S. I'm sorry for my bad English.
Neutered male cat aggressive toward new male
by Renee
(Chicago)
I recently rescued a cat that was living outside, had him vetted and neutered. I already have two female and one male cat, all of which are fixed. The new cat was neutered 2 days ago, and my male cat is showing aggression towards him (deep throated howling and growling).

He has not attacked him, but I was wondering if he is showing this aggression because the male hormones on the new cat can still be smelled by my resident cat.

I have read that these hormones can remain in the body for up to 30 days. The new male is not aggressive whatsoever, and I am surprised my resident cat is behaving this way.

Prior to this he was the most passive out of all three of my cats? Any ideas or help to make this transition smoother??!!!
My cats refuse to get on :(
by Izzie
I have 2 14 year old cats. They are brother and sister. They get on great. Well, when I say great, they live side by side if that makes sense.

Lucy the female, spends most of her time inside, where as Brandi the male, likes to be out all the time.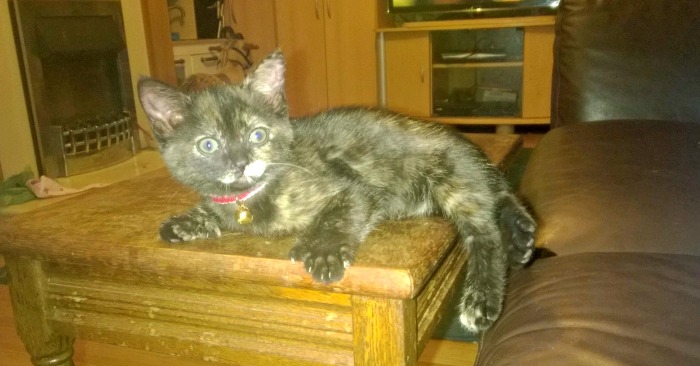 I recently introduced a 12 week old poly kitten into our group, but neither cat will even go near the new kitten. They have shown nothing but hostility towards her.
She doesn't pester them at all as she's more of a people cat, but the other 2 are constantly growling and hissing at the kitten, even though she leaves them alone.
It's even to the point that Lucy went for the kitten a few days ago. Please help. I really want them to get on with the kitten. I'm not asking for them to love her and fuss her, just not be mean. Any ideas?
Editor's note:
Congratulations on your adoption! While some amount of hissing and fighting is often normal when a newcomer threatens a resident cat's territory, a slow introduction process can help smooth the way.
If you start the new kitten out in a room by herself, and then slowly introduce the cats following a proven process that has worked for others in the past, you'll be ahead of the game.
What I would do is pretend as though your new kitten has not even met Lucy and Brandi yet, and set her up in a room by herself. Then, start the introduction process.
I've already outlined this introduction process on another page, so I'm going to link to that here as that is the full answer...
how to introduce a new cat
.
Join in and write your own page! It's easy to do. How? Simply click here to return to Your Cat Questions.