The Aristocats DVD
Clips and Movies with Sound
From the Aristocats DVD, Disney's Special Edition release, here are some clips and a movie with sound for you to enjoy. These are some funny cats. I'm also including a shot of the Disney Virtual Kitten Game that's included in the bonus features on the DVD.
Check your speakers!
---
Here's some of the crazy jazz playing cat gang in a still of "Everybody Wants to Be a Cat."
If I have to pick a favorite character, it would be the Siamese, with his blue eyes.
You can't see his eyes in this shot, but that's him playing the piano here.
He's way too funny. He's referred to as the "Chinese Cat" and his voice was done by Paul Winchell.
If you don't know already, Paul Winchell was the voice of another famous cat from 1968 to 1999. That cat, another of my favorites, is named "Tigger."
---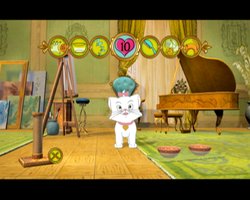 The Aristocats
DVD has a bunch of nice extras for some family fun.
With Disney's Virtual Kitten, you can adopt and care for what else? Your very own kitten, of course. How?
Select "Play Game" from the DVD bonus features menu. Then, select your choice of cat by clicking on a kitten.
You can view the details on breed, weight, and personality. Then, adopt and name your kitten. You can even print a "Certificate of Adoption" showing you're the new kitten parent.
Then... choose a scratching post for your kitty (every cat needs a scratching post), and a style of food and water bowls for your cat. Now, you can earn hearts while taking care of your newly adopted kitty.
You and your kitty can play ball, take a nap, eat and drink, and so on. If your kitten likes what you're doing, you'll earn your kitten's love in hearts.
---
---
Jump from Aristocats DVD back to Cat Stuff
Jump from Aristocats DVD back to the home page of Cat Lovers Only